Kann uns zum Vaterland die Fremde werden?


Johann Wolfgang von Goethe: Iphigenia on Tauris I, 2nd (Iphigenia)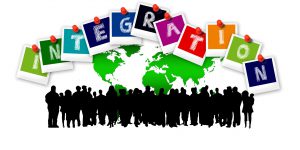 The Treffpunkt Integration sees itself as the central point for all questions about the keywords integration and migration – for everyone!
Integration and migration have become a major public eye in recent years with the large number of refugees.
And since November 2016 with the establishment of the "Treffpunkt Integration" at Marktstraße 24 in the heart of the city center visibly anchored in our city.
About 3,600 foreign citizens live in Giengen. In addition to the refugees, who often had to leave their homeland because of wars and persecution, other migrants also come to Giengen. Every year, the Foreigners' Office has recorded the influx of about 650 new citizens with non-German citizenship and about 550 German citizenship.
For all these people, the Treffpunkt Integration with various offers points the way into our community and our city – and thus into a new home. The Treffpunkt Integration sees itself as central point for people – and for all topics related to migration and integration.
The transfer of information and knowledge is maintained by a broad network of many partners.
Through regular contact with all administrative and social welfare bodies involved in the integration process, as well as educational institutions, there are all kinds of paths to the various network partners.
The daily questions and offers in the "Treffpunkt Integration" are as diverse as the people with whom we maintain contact and to whom we turn with our work.
Our goal is for our urban community to live in an atmosphere of respectful coexistence and mutual respect. Respect and mutual consideration should enable participation in all areas of social life. Each individual can find a new home.
The "Treffpunkt Integration" is open to all citizens!
If you have suggestions and questions, wishes and ideas, as well as problems and concerns, a meeting can be arranged at any time.
Contact:
Martina Kunze
City of Giengen an der Brenz
Integration Officer
Office for Education and Social Affairs
Marktstraße 24
89537 Giengen an der Brenz
Phone: 07322 / 9568949
Email: Martina.kunze@giengen.de
Internet: City of Giengen